The Benefits of Brick Pavers – Warren, Michigan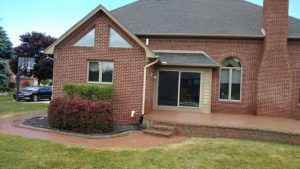 Creating separation between your landscaping features is a good way to make your yard look put together, and make maintenance of your lawn, gardens and hardscapes so much easier. You have choices for the kinds of edging you can use. Go to your local home improvement store and you'll see all sorts of edging choices. They all have their pros and cons, however, we think the most cost effective option for your Warren yard is brick pavers. If you are looking for a great way to tie your landscaping together but keep your gardens and lawn separate, check out brick pavers.
Brick Pavers Last Longer
You'll find that if you select one of the many inexpensive edging options at the home improvement store, whether metal or plastic, your edging won't last. Metal edging will eventually rust and fall apart, and plastic edging will break down in the sun and fall apart. These types of edging just don't stand the test of time. However, brick pavers do last. Because they are not easily damaged by wear and tear, and don't break down in the sun or rust over time with water, brick pavers are a great option for those landscaping features that you don't plan on changing for a long time.
Brick Pavers are More Durable
This factor goes hand in hand with longevity. Brick pavers are tough. They can stand up to a beating from lawn tools such as mowers and trimmers and they can handle the sharp edges of shovels and tillers. They may scratch, but you won't have to worry about them breaking or bending if you accidentally hit them with your mower or tiller. Plastic and metal aren't so forgiving. A lawn mower can easily chop up plastic edging, and metal edging can bend easily even with just a shovel. While brick is durable, that doesn't mean you should just run it over. Because it is such a strong material, you can damage your lawn equipment if you're not careful.
Brick Pavers Are Safer
Brick pavers are much safer than other edging options, metal especially. With families spending more and more time in their yards, and turning their yards into outdoor living spaces, homeowners need to be mindful of the materials they are using in their landscaping. While plastic edging is okay, many people have reported serious injuries to children and pets from metal edging. Both plastic and metal edging are so thin that they can be hard to see, which makes them trip hazards in your yard. Brick pavers come in a variety of shapes, so you can select edging with rounded corners, reducing the risk of cuts and scrapes. And because it's thicker and easy to see, you won't have kids and adults tripping over your edging.
Brick Paver Look Nice
If you are going to spend the time and money to create a backyard oasis for your family, it should be not only functional but also great looking. Metal and plastic edging just don't look as good as beautiful brick pavers. Brick pavers can be coordinated with your other hardscape features or match the color of your home. And with so many shapes, sizes, colors and textures to choose from, you are sure to find the perfect brick pavers for your edging, patios and gardens.
For More Information on Brick Paver Design and Installation in Warren, Michigan
Classic Landscape servicing Warren, Michigan specializes in the installation of brick pavers for all of your hardscape and landscaping projects. If you are ready to make your outdoor living space more beautiful with brick pavers, we are ready to help. For more information on our brick paver design and installation services or to schedule a consultation, call us at (586) 243-3555.