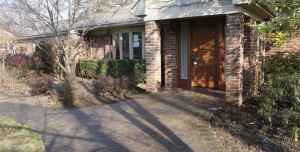 The winters in Macomb County, Michigan can be really hard on your brick paver surfaces. Whether it's your driveway, walkways or planters, you can bet that your brick pavers have been affected by the snow and ice from winter. As the snow and ice melt and the weather warms up, you are going to start noticing the damage on your paver surfaces and retaining walls. Catching damage early and making repairs in a timely manner can save you money from costlier repairs and replacements. As we head into spring, here are some common brick paver maintenance activities that you should consider for your brick paver landscaping features.
A Good Cleaning.
Even if you don't notice any damage to your pavers, there's a good chance that they could use a good cleaning. Scrubbing with a gentle detergent followed up with a good rinse with clean water can bring new life to your brick paver surfaces. Over time, brick pavers, even those that are sealed can begin to look dull from dirt, ice melt and regular wear and tear. If you have a brick paver driveway, you may also have stains from vehicle fluids. The easiest way to keep your brick paver surfaces looking great is to keep them clean.
Sand and Seal Brick Pavers
Your brick paver surfaces have sand that fills the spaces between the bricks. This sand can come out over time, especially if you sweep or wash your brick pavers often. This missing sand can cause your pavers to shift or settle, causing low points. Every few years, it's a good idea to have your brick pavers refilled with sand to keep the pavers from moving around. Once you've refilled the gaps, a brick paver sealant is a great idea to follow up with. Sealants protect your brick pavers from scratching, keep them from dulling, and hold the filler sand in place. These two simple steps every few years can save you from costly repairs down the road.
Fix Settling Brick Pavers
This is a good process for both brick paver surfaces and retaining walls and planters that are constructed with brick pavers. Settled bricks in flat surfaces such as patios, driveways and sidewalks can create big problems for your landscape. These low spots hold water that can cause extensive damage to your patio or driveway. Over time, low spots can disrupt the stability of your paver surfaces, eventually requiring a complete reinstallation. If you notice a few bricks that aren't level, fix them quickly to avoid costlier repairs. The same is true for brick paver retaining walls and planters. When these structures are not level, they are no longer stable. Fixing sections that have sunk or heaved will add longevity to your landscaping features, without costing you a ton of money.
For More Information on Brick Paver Maintenance in Macomb County and Southeast Michigan
Your brick paver surfaces and landscaping features are a big investment for your home. When cared for, they can last years and years without major repairs or replacements. Classic Landscape can help you with annual maintenance for your brick paver surfaces and landscaping features, ensuring they last many years. To schedule spring time maintenance for your brick paver surfaces, contact us at (586) 243-3555.